20 fuentes tipográficas grandes para títulos grandes y elegantes
Ideakreativa
cuenta con el apoyo de su audiencia. Cuando compras a través de enlaces en nuestro sitio, podemos ganar una comisión de afiliado
sin costo adicional para ti
. Como
Asociado de Amazon
, ganamos con las compras calificadas.
Aprende más
Tipos de letras para títulos grandes
Los diseños de tipografía Big Fonts siempre han sido un aspecto fundamental de diseño elegante para títulos, pero muchos diseñadores ahora están haciendo del texto la pieza central de sus diseños. La tipografía no solo se está convirtiendo en el diseño, sino que la tipografía está siendo llevada al límite al usarse de formas nuevas y geniales, como la tipografía Fonts . 
Los diseñadores han estado incursionando en los efectos de la tipografía o fuentes durante un tiempo, por lo que aquí hay algunos proyectos de tipos nuevos que quizás aún no haya visto formar la comunidad de diseño en línea.
El diseño tipográfico de fuentes ahora es más popular y podemos notar un aumento en el trabajo de tipo de fuentes en sitios de cartera. Aquí hemos recopilado 20 fuentes de tipografía grande para titulares grandes y con estilo , este diseño me pareció realmente inspirador, espero que se inspire.
Siéntase libre de unirse a nosotros y siempre será bienvenido a compartir sus pensamientos, incluso si tiene más enlaces de referencia relacionados con otros consejos y trucos que puedan gustar a nuestros lectores.
Aquí hay una lista de 20 fuentes tipográficas grandes para títulos y titulares grandes y elegantes . ¡Disfrutar!
Fuentes tipos de letras para títulos en diseño web
1. Bebas Neue

Bebas Neue is a pretty popular sans serif font – so popular in fact, that its creators aren't afraid to refer to it as the "Helvetica of the free fonts", and it's pretty easy to see why. The typeface features a simple, bold design with multiple weights, which lends itself perfectly to any no-nonsense heading.
2. Aileron

Aileron is available in ten different styles, ranging from the ultra-thin all the way to the bold. Its letters are somewhat condensed and they have pretty short arms, giving them a stocky, solid feel perfect for sober titles.
3. Simplifica

Simplifica is a sans serif font which is easily distinguished thanks to its uniform design, with thin stems and short arms. This serves to pull the eye upwards, and with a little tracking, you can obtain pretty pleasing results as far as headings go.
4. Corbert Condensed Italic

As its name implies, this font is the condensed version of the original Corbert font, with its letters being 15% closer than those of its parent. This lends itself pretty well to any designs which require a little bit of additional weight to them.
5. Baufra

Baufra bills itself as a humanist sans serif font, influenced by those of the early 20th century. It combines geometric design with soft lines, resulting in a very pleasing effect. The font comes in six different weights and its kerning can be manually edited.
6. Bitner

According to its creators, the design of this font was inspired by the cryptocurrency movement – Bitcoin mining, to be more specific. It's a somewhat geometric typeface, with short arms and prominent bowls, and comes in seven different variations with multiple OpenType features.
7. DyeLine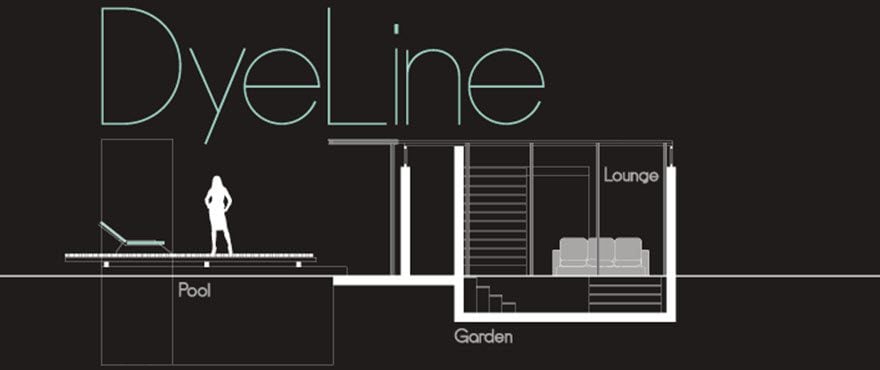 DyeLine is a font with a distinct geometric design, inspired by the clean lines of architectural drawings and blueprints. Its letters are noticeably condensed, with high cap-heights and thin stems – giving it a clean, modern look.
8. Glober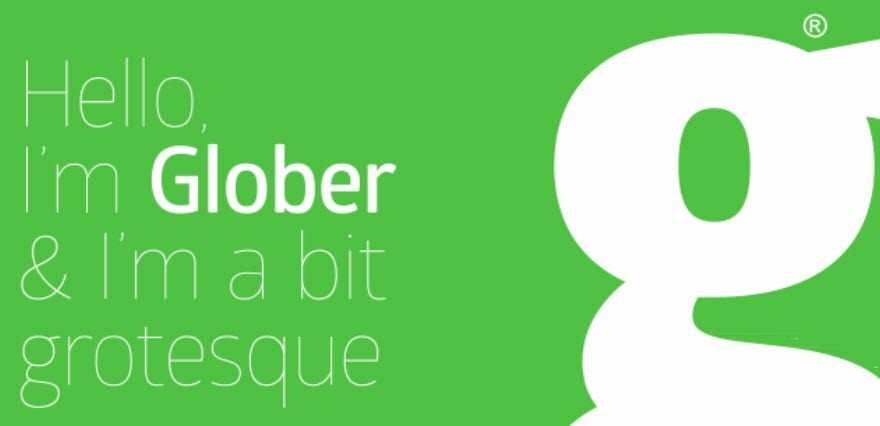 The Glober family of typefaces (which encompasses 18 different weights) is defined by its stylish geometric designs with softened finishes. They're well suited for high-density text designs, but mostly excel when it comes to creating titles and headings.
9. Proza

Proza is a sans serif font whose design was inspired by Renaissance typefaces such as Garamond and Jenson. It was created to work well across a wide variety of resolutions, making it usable both for text-based projects and large designs. Its designer, Jasper de Waard, worked on this typeface for approximately two years, starting when he was just 16 years old (by then he already had a font up on Google Fonts).
10. Gentona

Gentona is a sans serif font designed to be used across a wide range of designs, with an emphasis on contemporary sensibilities and inspired other grotesque typefaces. Its letters go from the sleek to the robust, making the font quite visually striking.
11. Penna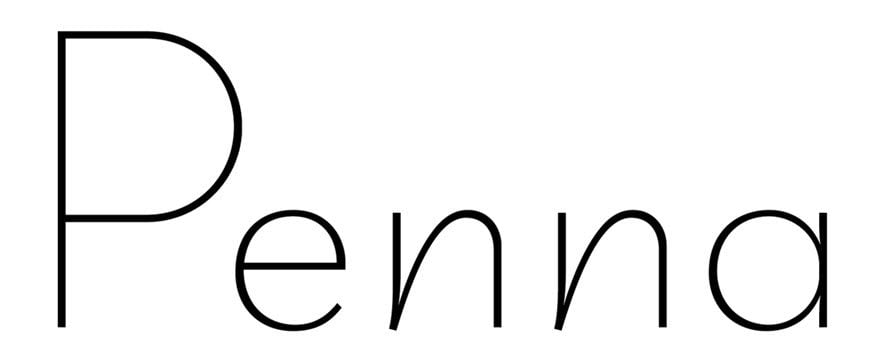 Penna is a unique font with thin stems and slanted strokes, which give it quite a playful look. It's perfect for sites looking for a typeface that complements a minimalist look, but that can also be used to great effect in sleek headings.
12. Overpass

Overpass is an open-source font inspired by Highway Gothic and sponsored by RedHat – the folks behind the Linux distro with the same name and Fedora. It's a simple, no-nonsense font which wouldn't look out of place on any heading and with six different weights available.
13. Foobar Pro

Foobar Pro is a sans serif font with some truly amazing language support. It contains a few rather unusual diacritic letters which enable it to support Cornish, Guarani, Malagasy, and plenty of other languages that none of us are familiar with. However, if you happen to need a font that does support unusual languages for one of your projects, you know where to look.
14. Audrey

This classy font was, of course, inspired by the immortal Audrey Hepburn, and created by Cristina Pagnotta. It comes in three different weights and two variations, with sleek lettering and a great use of tracking, which gives the text an elegant look.
15. Mosk Typeface

Mosk is an all-lowercase typeface with a clean linear look, that comes in nine different weights.
16. Zefani

Zefani is a Didone typeface with bold lines, which was designed to give an impression of luxuriousness. It's perfect for classical, high-end headlines.
17. Elianto

Elianto is quite different from all of the other fonts featured on this list. Many of its letters feature unique shapes and glyphs which may make it look a bit gimmicky, but surprisingly, it comes together quite nicely on headings. If you're looking for something out of the ordinary, you might want to give this one a try.
18. Ikaros

Ikaros is a minimalistic typeface with a very narrow tracking. This high condensation makes it kind of difficult to read if you're dealing with a lot of text, but it's quite workable when it comes to headings.
19. Coco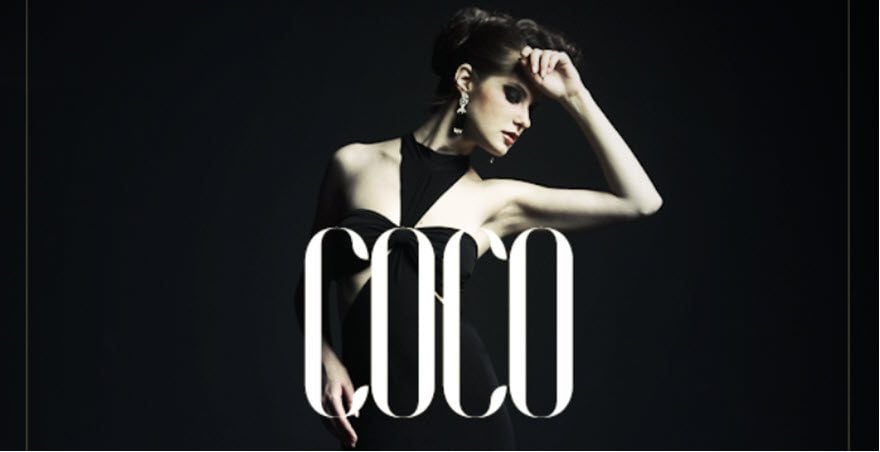 Coco is a sleek font meant for fashion projects, with high cap-heights and thin stems. It's pretty much the kind of typeface you'd expect to find on the bottle of an expensive perfume.
20. Bavro
Bavro is a simple, clean font perfect for headings, developed by Marcelo Reis Melo, and available for free in multiple formats.
21. Linotte

Linotte is a sans serif typeface with a rounded, friendly look to it. That, on top of a few small design quirks, make this font a good choice for projects that require a more down to earth look.
Conclusión
Una fuente pegadiza por sí sola no hará que sus titulares sean más atractivos automáticamente, pero ciertamente puede tener un impacto positivo en cómo sus lectores perciben sus diseños.
Las fuentes sans serif tienden a ser mucho más atrevidas que sus contrapartes serif, lo que las hace perfectas para los títulos. Si no encontró lo que estaba buscando en esta lista, no dude en echar un vistazo a algunas de sus fuentes favoritas para obtener fuentes excepcionales, como Google Fonts, Behance y Font Squirrel.
¿Prefieres las fuentes sans serif o serif cuando se trata de títulos y títulos? ¡Suscríbete a la sección de comentarios a continuación y comparte tu opinión con nosotros!
Resumen
Artículo
20 fuentes tipográficas grandes para títulos grandes y elegantes
Descripción
Las ⭐ TIPOGRAFÍAS Big Fonts siempre han sido un aspecto fundamental de diseño elegante para TÍTULOS. Una lista genial para diseñadores.
Autor
Publicación
Logo
Productos destacados
Artículos relacionados para diseñadores